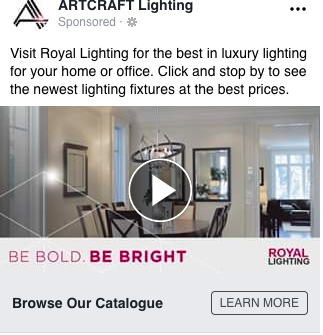 Artcraft Lighting has manufactured high-end traditional lighting fixtures since 1955. Based in Montreal, Quebec. Artcraft continues to produce top-of-the-line products—from bathroom vanities, table lamps, hanging pot racks, ceiling fixtures, decorative mirrors and ornate chandeliers, to exterior sconces, pendants, and post lanterns to its many retail partners throughout North America. For many years Artcraft produced print catalogues of products which were sent to their network of retailers who distributed the catalogues to their customer base. One of the challenges with the print catalogues is that once they were sent to the retailers, there was no way of knowing where they went from there. How was each retailer distributing the catalogues? Did they reach the intended demographic? Was it truly seen…and if so, by how many and by who specifically?
In an industry traditionally slow to adapt to change the management team at Artcraft Lighting took advantage of an opportunity to support their valued retail partners by collaborating on a Facebook & Instagram ad campaign that would be targeted to consumers as well as tradespeople within a specific radius of each retail location within Canada & the U.S. Through a series of ads, we were able to target by age range, location, job title, lifestyle interests as well as other key demographic markers.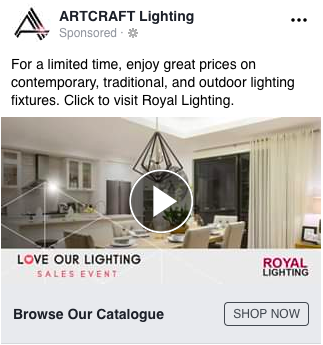 Each ad would be animated to be eye catching with different messages to see which ads were most effective and eliminate poorly performing ads. The ads were also customized and branded with each retailers logo and, when clicked on, would link to a page on the retailers website such as a "contact us" page where they would see the address of the location or locations as well as the phone number to facilitate easy access to each retailer.
Many of Artcrafts retail partners participated, some with more than one location. The initiative ranged from 4 weeks to 12 weeks depending on the retailer. Our reach (the number of UNIQUE potential consumers that saw our ads) was 701,866 geo-targeted consumers. 43,752 of those we reached clicked on the ads and were driven to the retailers website. 3,203,701 was the total number of impressions (the total number of times potential customers saw our ads).
In conclusion: The first round of our retailer campaign allowed Artcraft Lighting to be perceived as an innovative front runner in their industry. Artcraft was able to partner and support their retail customers with a value added advertising campaign with metrics that clearly showed how many end user targeted consumers saw their ads and how many clicked through for valuable contact information. Some retailers reported increased traffic to their websites over the course of our campaign. We effectively reached geo-targeted consumers and potential consumers very cost efficiently over the course of the campaign.